WHY?
ASTONISHING BEKI SAVES THE PLANET: was conceived as a way to teach young adults about the planet and how to take care of it In their own little way. The earth is dying due to manmade factors and everyone has a part to play in making our world a better place even the kids.
LOGLINES
A young seven year old girl who lives in an African village finds a way of using the internet to help save the planet in her own little way.
FORMAT
3D-Animated series.
HDTV
PG- Rated
11mins x 26 episodes
Target Audience: Ages 6 – 12 years old Genre: Adventure, comedy, fantasy
WORLD
Our world is an ordinary one with the potential of Magic, science and adventure. This is a village where water is drawn from the streams/rivers. African Mud houses and thatched houses are commonplace. Diseases are cured with traditional medicine or at the only clinic at the edge of the village. The use of hurricane lanterns and fire lamps and firewood as fuel to cook. Farm trails are semi motor able while fishing and farming and major professions in the village. Preserving food in earthenware pots as there is no electricity which means that Games are mostly outdoor. The village holds a lot of mystery as BEKI and her friends will soon find out with the magical tales of Mama Agba.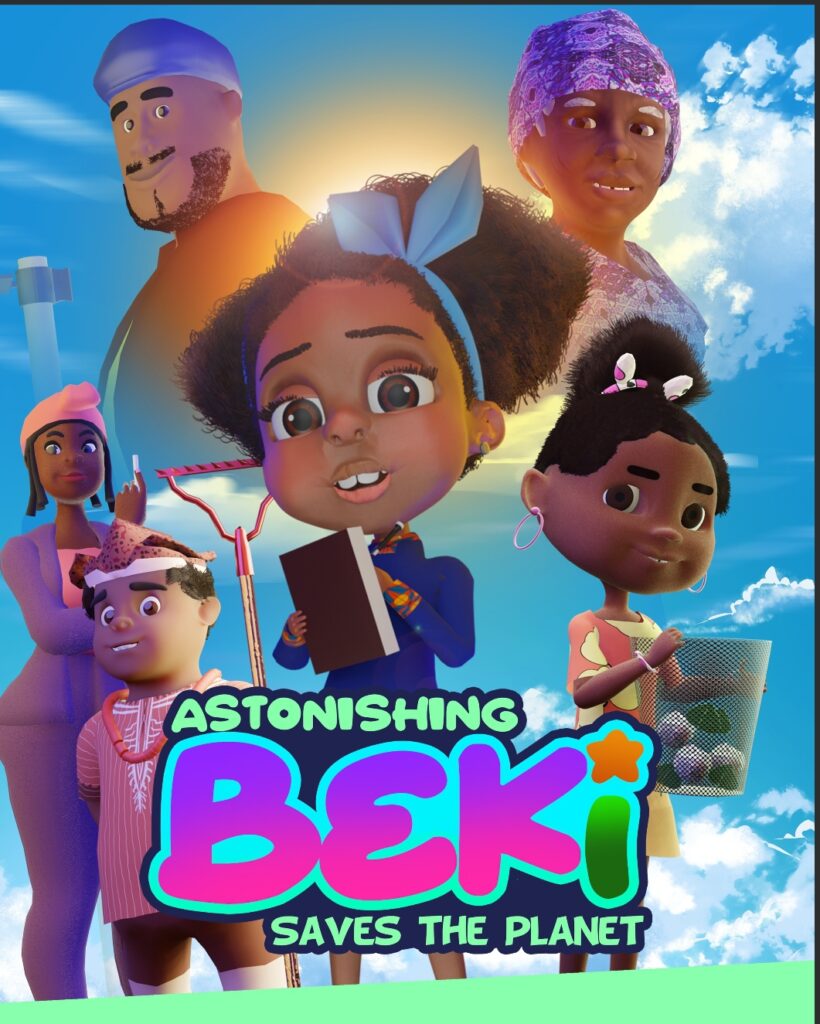 THE HISTORY
Mr. Kayode Lawal, due to the pandemic, lost his job in the city but soon rediscovers his love for farming and relocates back to his village with his daughter and wife.  His daughter was an A-student in the city. It is in Alkebu village that the values of contentment, community, nature and family are fully appreciated and taught to BEKI who had fallen in love with saving the planet from watching National geography Channel.  Though the village is a different world from what she is used to BEKI and her family find a life of love, community with a sprinkle of Magic.
SERIES OVERVIEW Each episode is a self contained adventure that often begins with a unique problem, (for examples Mosquito bites). Beki tries to find ways of identifying the problem and goes on a quest to solve it in the most earth friendly way. She finds solutions by asking people who know more than she does and applies it. The solution fails. What went wrong? It is then tweaked and it finally succeeds! Sometimes she goes online to find how other villages or towns have solved those problems. The tone of the show is funny and reinforced by colorful vibrant green lush of a tropical village.